When Al Boum Photo switched to fences back in 2017, Irish fans saw plenty of Willie Mullins' novice chaser, who had a good, but not great, reputation. It's not as if Al Boum Photo was out every week, but he was run six times in five months during his novice season as a chaser. He was something of an 'all or nothing horse', winning two of those races, finishing second in one, falling twice, and then finishing the season with a bizarre "RO" at Punchestown in April.
As most are now aware, Mullins changed tactics with Al Boum Photo after that season. After the debacle at Punchestown in April 2018, Mullins kept him back until New Year's Day 2019, when he duly won the Savill's Chase at Tramore. After that, Al Boum Photo went straight to Cheltenham to take the 2019 Gold Cup. Mullins repeated the tactic the next year (with one pitstop at Punchestown on the way), and Al Boum Photo duly obliged in the Gold Cup again. And then again in 2021, although Al Boum Photo came up just short of securing the hat-trick.
Mullins believes extra runs can help secure Gold Cup hat-trick
So, what has Mullins planned for the 2022 Cheltenham Gold Cup? It seems that he is going to try a new tactic with Al Boum Photo, so we are set to see a lot more of the 9yo in the coming months. A trip to Punchestown on 5th December for the John Durkan Memorial Chase has been cited as a potential date. But there is also the mouth-watering prospect of his King George VI Chase entry on Boxing Day at Kempton.
The King George card will likely be whittled down as we approach Christmas, but, at the moment, you are looking at names like Minella Indo, Clan Des Obeaux, Chantry House, Allaho, and last year's winner Frodon. That's an elite line-up. But it's interesting to see where Al Boum Photo sits in the markets – 20/1. Those are huge odds, which will likely come down should Mullins confirm his intentions on bringing Al Boum Photo to Kempton are serious.
Al Boum Photo is a big price for 2022 Gold Cup
Al Boum Photo is also generally available at 20/1 for the 2022 Gold Cup. Again, some might raise an eyebrow at this. His 3rd-place finish in 2021 was hardly a bad result, nor was this second place to Clan Des Obeaux a month later. It just seems a bit of an overreaction from bookmakers to inflate those odds.
And yet, Mullins concedes that there is a need to change the tactics. The Irish trainer said: "I think it will benefit him now, at his age and everything, to have more runs and be more battle-hardened for the spring time.". He also said in another interview on Al Boum Photo that "Hopefully we can get him back to what he was as last year; I don't think he was at his best."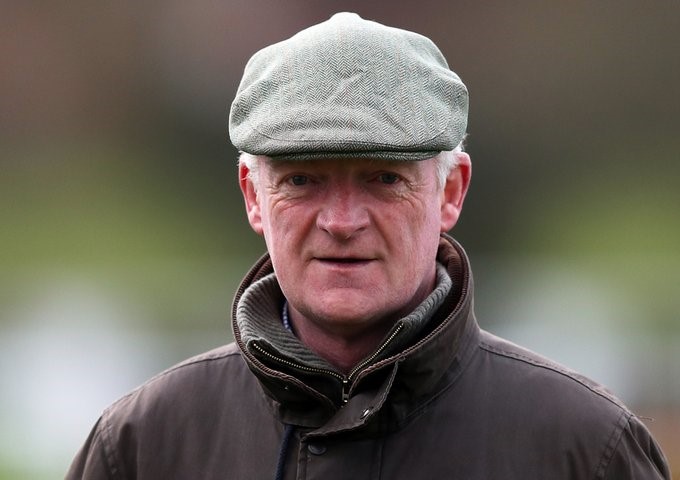 Photo via https://twitter.com/ggcouk
What should we read into that? Probably not much. Willie Mullins is usually quite sober about assessing any horse's chances, so you shouldn't rule out a smashing season for Al Boum Photo just because Mullins wasn't shouting his name from the rooftops. Still, like all of us, Mullins is going to have to have a wait and see approach to learn whether Al Boum Photo has the goods to become a three-time Cheltenham Gold Cup winner.